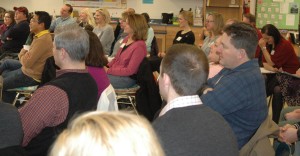 The God Is! Process
Step 1 – Evangelize
THROUGH A POWERFUL, LIFE-CHANGING, SINGLE DAY OF RENEWAL
The God is! Day of Renewal brings about real conversion. It convicts participants, no matter where they are in their faith journey. God Is! is unique in its ability to reach even those who are not actively participating in the faith.
STEP 2 – Catechize
THROUGH MODERN MEDIA FOR EASY, ONGOING FAITH FORMATION
Participants are supported in their ongoing personal spiritual growth. Through CDs and monthly Epistles they are inspired, learn about the Catholic faith and are given tools to help.
STEP 3 – communitize
THROUGH SIMPLE, CONVENIENT, INCLUSIVE, SELF-LED FAITH GROUPS
Small faith groups are offered to build a supportive community within the parish.
Evangelize All! … And get All Evangelizing!
PARISHIONERS EVANGELIZING EACH OTHER
After living the first God Is! parishioners carry on the ongoing process of evangelization . Those who have experienced God Is! will lead future days of renewal. Participants in small faith groups support and evangelize each other.